Whether you call them alcoves or nooks, these recessed shelves are all the rage. They have some handy benefits for design, adding geometric elements to spaces, creating focal-point opportunities and breaking up otherwise plain walls. Here are some ideas for bathroom alcoves to inspire your next project…
1. Go big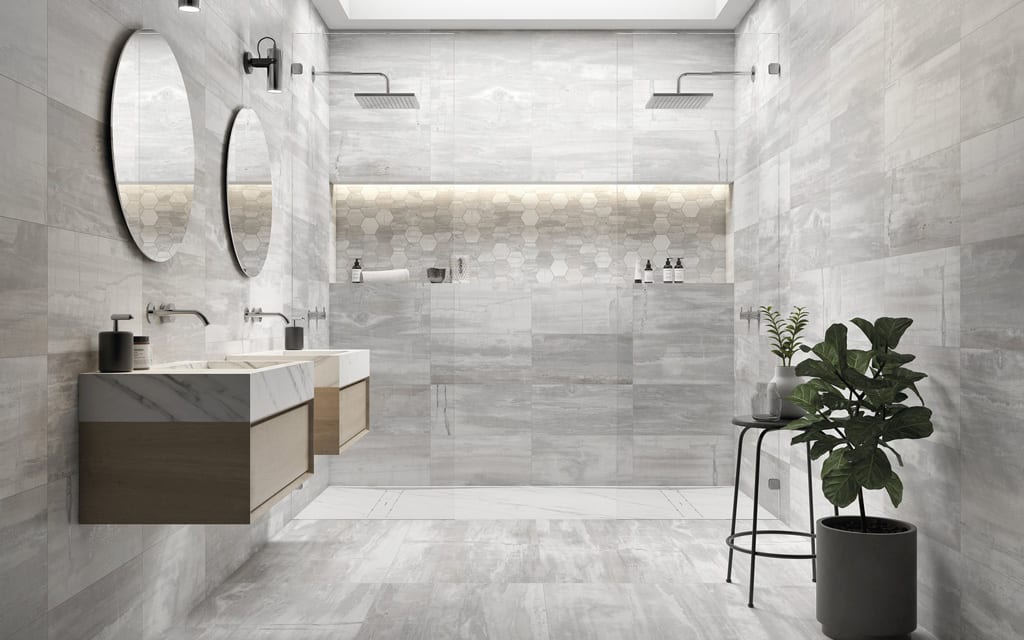 Make a big statement with an alcove across the length of one wall. Ideal for his-and-hers walk-in showers. Many of our Spanish porcelain tiles have decor tiles or matching mosaics in their collections, which adds interesting detail to an alcove.
2. Set the mood with lighting
Alcoves are just begging for creative lighting. Little downlights can be used to highlight carefully chosen and styled bathroom accessories — not a row of shampoo bottles, of course!
3. The more the merrier
Some people go crazy with bathroom alcoves and, provided there's a skilled carpenter and tiler to get them perfect, a series of smaller alcoves can look very appealing. Most tilers charge extra (often per alcove) because of the additional time for cuts and finishing, so it's important to factor this in to your calculations. The tile pictured here is from the World of Tiles Natural Stone range.
4. Pure decoration
The temptation will always be to put something in a bathroom alcove. However, they can also be purely decorative, with feature lighting bringing them to life and creating the focal point. Pictured here is Carrara Mulga polished and rectified marble, from the World of Tiles Natural Stone Range.
5. Creative cornering
Corners can be awkward little spaces… or they can be put to good use. Add a curve to break up the boxy lines and create an additional layer of interest, and tile with mosaics for extra texture.
6. Mosaic moments
Alcoves are where mosaics can truly shine and with the glorious array of mosaic designs available, there's ample opportunity for creative license. Pictured here is the very popular Elements Grey mosaic with Crystal Ivory polished porcelain tiles on the walls.
For more bathroom tiling inspiration, see our 2022 Tile of the Year blog.